Online advertising is an opportunity you don't want to miss in order to grow your restaurant's online presence and engagement. Use Google Ads to your advantage with this guide.

Everything to Know About Google Ads for Your Restaurant
As the world evolves, so does your restaurant marketing strategy—and digital marketing is one key aspect of that. But while you're busy running the day-to-day, it can be hard to keep up. So, what should you start with? Well, one of the most effective tools for getting your name in top local searches is Google Ads.
By investing with Google Ads, your restaurant will be able to:
Reach potential customers

Build your brand

Grow your online presence
In this guide, we'll show you just how to get started with digital marketing for your restaurant.

What is Google Ads?

Google Ads, formerly Google AdWords, is an online advertising platform that provides you with the space to boost your restaurant visibility and convert more people who find you online to be one of your customers. It also works on pay-per-click advertising, where advertisers pay for every click or impression on an ad.
Through this, you can increase your restaurant reservations and boost profits just by running a campaign on Google Ads.

Do Google Ads Work for Restaurants?
Absolutely, Google Ads are a great idea for restaurants; especially since Google is usually the first place people go to when looking for restaurants near them. It's a great marketing tool that gives you access to a constant stream of hungry customers.
Below, you can see in this chart the growth in Google searches for "restaurants near me" over the years—and it's booming more than ever. Seeing this, it's clear Google Search Ads are an untapped opportunity no matter where you're located.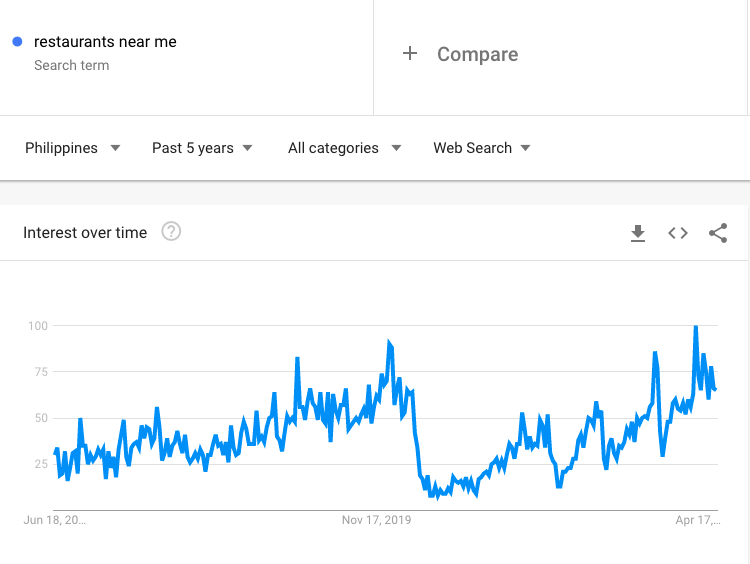 Google restaurant ads can also be a great investment since they help you reach a targeted group of local restaurant-goers, especially when used at the right time. However, it's also important to mention that Google Ads can be expensive if you don't understand what you're doing.
There are many ways that you can maximize and strategize your campaign's audience reach and increase the number of your visitors and customers. And if you choose the wrong options—you can end up wasting your ad spend.

How Do You Promote Your Restaurant Using Google Ads?
Of course, you don't want your money to go up in smoke. Most people go to Google, social media, and restaurant review sites before deciding on where they want to dine. This is why Google Ads is your best bet for more people to know about your restaurant.
Here are 3 ways to improve your sales and customer conversions while boosting your restaurant's online visibility:

#1 – Use relevant keywords for your Google Search Ads campaign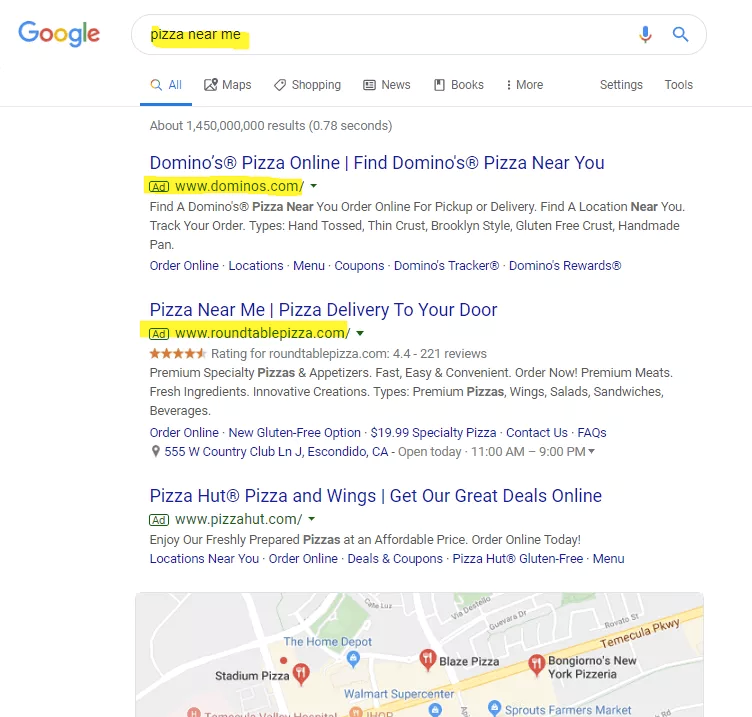 Google Search Ads, as in the image above, are what appear on Google search engine results pages (SERPs) when searchers type in keywords. So, when setting up your Google Search Ads campaign, always select the right keywords relevant to your business and your customer's search intent.
It's best to use the right keywords because Google Ads work on highly-targeted traffic, so it's best only to run your restaurant ads to attract the attention of specific restaurant searchers.
For example, if you're aiming to be a go-to date night restaurant in your area, you can target keywords like "date night restaurants near me," "best restaurants for couples near me," or "best steak and wine"—as long as it's relevant to what your restaurant offers.
Another thing to remember is to include your restaurant's name in one of your keywords because there's a high chance that people are searching for your restaurant too. Doing so increases the chances of them clicking on your restaurant's website and not on food review platforms.
You'll be charged the cost-per-click (CPC) when someone clicks on your ads and the potential customer is redirected to your website. For example, the average rate in CPC in Google Ads search advertising as of May 2022 for Restaurants & Food is $1.84, with an average conversion rate of 5.54%.
#2 – Target Specific Locations with Google Maps

Avoid making the biggest mistakes of restaurateurs who use Google Ads without targeting the right audience. You want to drive traffic from local restaurant searches in Google Maps within your geographic area, which is why it's essential to specify the geographic location of where your ads show up.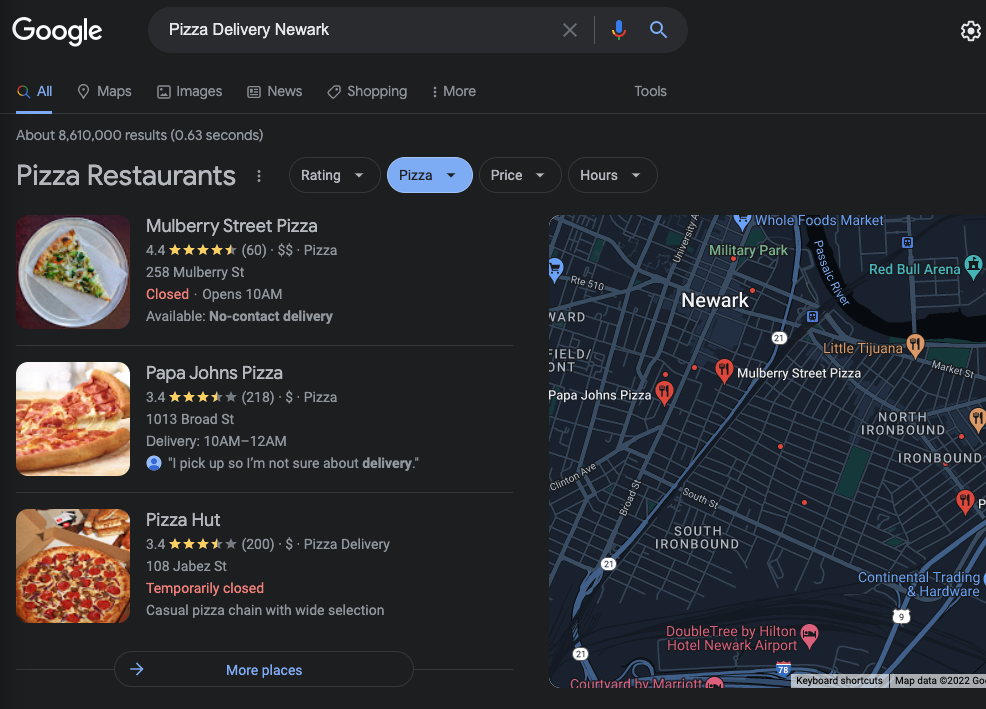 Hyper-targeted marketing ensures that only those who will want to eat at your restaurant will see your ads. So, narrowing down the search intent by using niche and localized keywords will help target an audience who will be interested in them.
For instance, depending on the location of your restaurant, you can choose keywords like:
Mexican restaurant in Makati

Nasi Lemak in Jurong

Pizza Delivery in Newark
This helps since most diners will not travel more than 45 minutes to your restaurant. Take this information to your advantage and use only restaurant ads to show up on SERPs based on their geographic area.

#3 – Modify Your Restaurant Ad Schedule



You can also maximize your budget when building your Google Ad campaign around a specific schedule. For example, Google Ads only allows you to run your ads during specific times of the day, so you can choose when restaurant searchers can see your ads on Google.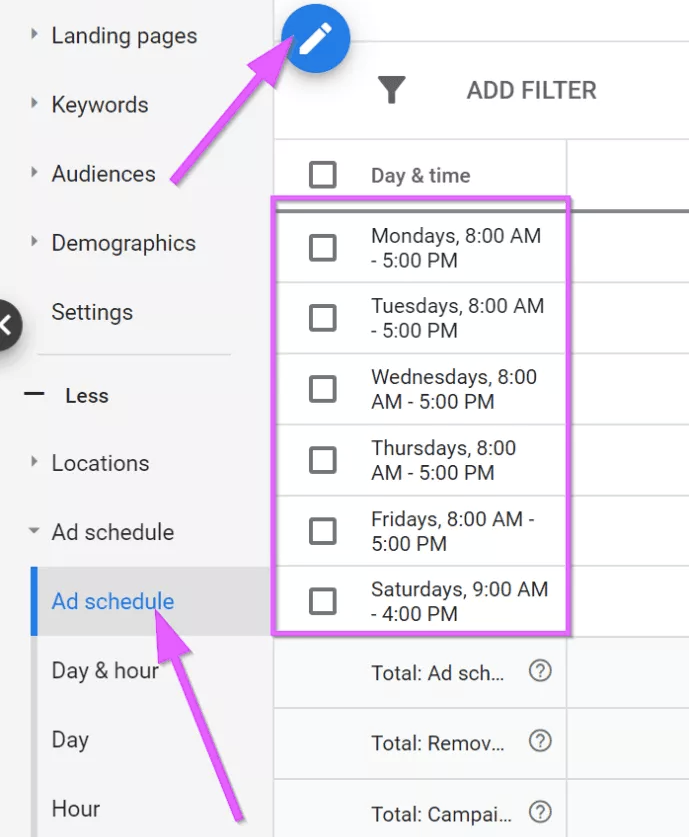 Here are some examples of scenarios where you can make the most out of your Google Ads:

Specific Mealtimes



If you want to maximize your restaurant's revenue by attracting the most foot traffic possible during specific mealtimes of the week, then it's best to run your ads hours before that mealtime.
Say you want more people to come for lunch, then you only run your ads starting at 10 A.M. If you want to drive more traffic during dinner, then you can start running your ads at 5 P.M. Doing so ensures that your target audience sees your ads when they are more relevant.
Special Events



If you have special events at your restaurants, you can also use Google Ads to raise awareness. If you want to have a month-long celebration for graduating students in March, then you can run your ads starting in the weeks leading up to your event when parents are planning where to go out to celebrate.
Holidays



You can raise awareness and drive more reservations for an upcoming holiday by running Google ads leading to that day. For example, if you want to use restaurant ads for Christmas and New Year's Eve, you can run ads leading up to that. Just remember that you include a clear call to action (CTA) and information on how to reserve a table.
Grow Your Restaurant with Google Ads

With the recent shift in marketing strategies, it is vital to ensure that your online presence reflects this change. One of the best ways to get your foot in the door is through Google Ads. You can do many things with Google Ads to grow sales by driving more foot traffic to your restaurant.
One thing that will help you know what kind of advertisements your restaurant needs is having access to real-time data about your customers' spending habits. With access to accurate data, you'll be more capable of making data-driven decisions to know what promotions to offer and at what times would be best to run your Google Ads.
At Mosaic, we help restaurants optimize their profits all around. You get data analytics to help you track sales trends, direct costs, and inventory levels in one place. We also give you access to the best possible solution for F&B services in Southeast Asia.
Contact us today to see how our restaurant POS system can help your business.
Share this article