Positive reviews are key in showing your restaurant's of good quality as well as attracting new customers. Here are 8 ways you can improve online customer reviews.

How to Get Good Online Restaurant Reviews
Nowadays, potential customers will often check out a restaurant's online reviews to help them gauge whether it's worth going to.
When they see that a restaurant's reviews aren't doing so well, chances are customers will opt for a better-reviewed option. A survey from 2021 even shows that bad reviews dissuaded 94% of people—that's nearly everyone.
As the digital age keeps us consistently connected and updated, it's easy to be impressionable with what others say online. That, however, is a double-edged sword that can work for or against your restaurant business. So, if you want to leverage social proof, then you have to keep your online customer reviews positive.
The solution is simple: Get better reviews to attract more customers.
And how can you do that? Keep on reading as we teach you 8 ways to improve your online customer reviews.
8 Ways to Improve Your Restaurant's Online Customer Reviews

Keeping your online customer reviews positive ensures you're always attracting new customers. With these tips, you can keep improving your online customer reviews so your restaurant business can grow and flourish.

1. Encourage Loyal Customers to Give Reviews
When a customer is loyal, you can safely assume they leave your restaurant satisfied and wanting more. Starting off your mission to improve your online customer reviews with loyal customers shows that your restaurant consistently provides good service and treats customers right. After all, customers won't repeatedly return to a restaurant that disappoints them.
Your loyal customers can vouch that your restaurant is of good quality. In addition, positive reviews from loyal customers can suggest that previously garnered negative reviews were temporary shortcomings or mishaps.

2. Respond Promptly to Online Restaurant Reviews
The quicker you respond to an online customer review, the better. Ideally, you want to respond to reviews within 24 hours. And that goes for both negative and positive reviews.
Prompt responses show customer feedback is a top priority. Customers want to feel their sentiments are appreciated. A great way of showing them your appreciation is by quickly recognizing and responding to what they have to say. As the old saying goes, "Strike while the iron is hot."
3. Take Criticism Constructively and Graciously
Negative reviews have good in them too. The silver lining with these is they can help you identify which areas need improvement or where there are tendencies to have mishaps or shortcomings.
Sometimes, however, negative reviews can be written offensively. Always remember to keep your cool and find whatever value you can. It can be difficult, but you have to show your acknowledgement and gratitude.
A positive response to a negative review might even persuade them to come back and give your restaurant a second shot. Rather than seeing negative reviews as an obstacle, see them as an opportunity for improvement and winning over previously dissatisfied customers.
But negative reviews are not the only ones that deserve your attention. Always be gracious for the positive feedback you receive to build customer loyalty and show appreciation. Positive engagement is a great tool to keep your customers coming back.
4. Invite Negative Reviewers Back for a Second Chance
A positive response to a negative review is just one part of the solution. To go above and beyond, invite customers back for the opportunity to change their minds.
Inviting them back also shows that you value all of your customers and are keen on satisfying each one. Plus, it makes a great impression if potential customers see a review from a previously disappointed customer saying that their feedback was addressed with a positive review to show for it.
5. Give Incentives for Leaving a Review
Think of this as an investment and that its returns are more customers. Promoting customers to leave a review in exchange for a small treat like a dessert, a side, or a drink can go a long way.
In addition, receiving something for free makes customers happy and perceive your business better. Although they still need to do a small task to acquire it, "free" here means they don't have any additional expenses apart from their orders.
By incentivizing your customers to leave a review, you tip the scales in your favor by putting them in a good mood. A few treats will be well worth your customer's satisfaction. On top of that, you can look forward to serving new ones.
Pro Tip: Offer incentives to your delivery orders as well as customers who dine in! Just leave a coupon in the to-go bag with a special discount to keep them coming back.
6. Make Giving a Review Easy
Unless your customers get an incentive, giving a review is a low priority for them. Since they don't get anything out of it, you need to make it as easy for them as you can.
One way you can do this is by using review response templates. Using a template that breaks down the different areas customers review also helps you get more accurate feedback.
To give you an idea, check out this free template! Just right click to save the image to your computer, and then you can print it out.
Restaurant Review Response Template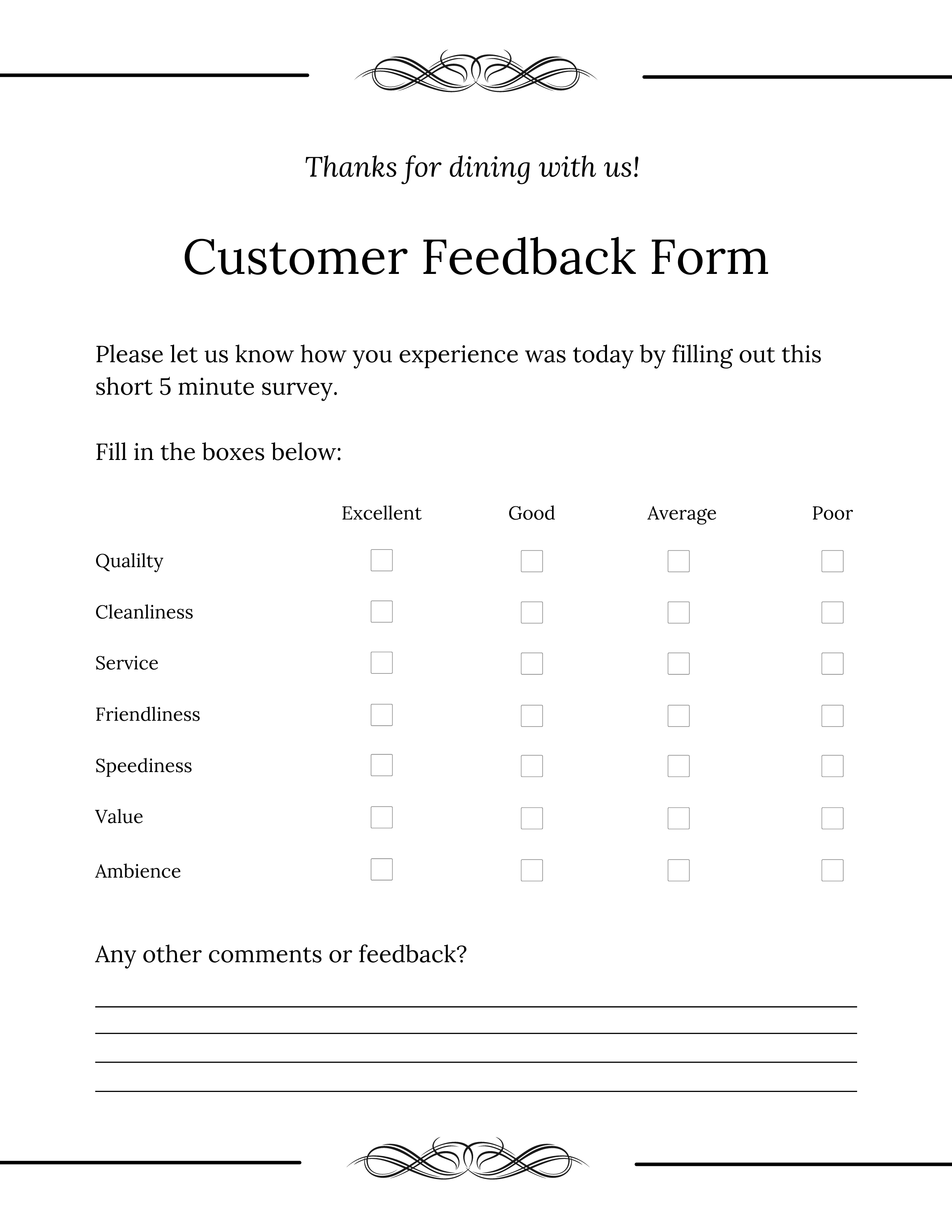 Image by Mosaic
When customers can just quickly read through and leave marks from the given options, you take out the burden of having to think and compose. If leaving a review is less of a hassle, they are more likely to do it.
In addition, make sure to find the review link on your website or profile is easy to find. Adding a QR to your menu can help with this. Another inconvenience you want to avoid is making it difficult for them to leave a review in the first place.
7. Have a Strong Online Presence
Being visible online keeps your audience interested. Consistently marketing the great food and beverages your restaurant offers entices former and potential customers to keep coming to your restaurant. And as for negative reviews, you can leverage marketing to show your improvements.
For instance, let's say you've garnered a few negative reviews on your fried chicken dish. Although it was delicious, it was dry. After taking customer feedback and improving your recipe, you can market it by saying some like:
"You gave feedback and we listened. Presenting our new and improved fried chicken. Same delicious flavors, but more succulent than ever."
By doing this, you accomplished two things. First, you showed that customer feedback is appreciated; and second, you improved the quality of your dishes.
You could even create a marketing campaign out of the negative feedback. Brands like the coffee chain, Tim Hortons, did just that by roasting itself after the initial release of its dark roast coffee failed not once—but twice.
8. Repost Customer Content
Another form of a positive review is when a customer proudly posts your restaurant offerings on their own social media pages and online communities. Sharing customer content online is also another way of showing your appreciation, and in addition, you get free marketing.
Reposting content also encourages others to do the same, further strengthening your online presence. But if you find posts that negatively speak of your restaurant, treat them as negative reviews. As mentioned earlier in the article, find value in their feedback and invite them for an opportunity to have a better experience.
Stay Positive & Keep on Going
When your ratings need improvement, approach negative feedback with a positive attitude. In the restaurant business, encountering a few pitfalls on your way to success is all part of the process since you can't always please everyone.
When you remain positive and act in the best interest of your business, you continuously grow and make improvements to make your restaurant reach its best.
Looking to upgrade your restaurant tech? Contact us today to see how our restaurant POS system can help!
Share this article