You might have the passion for food and hospitality that drives you to open your restaurant or manage one. In this ultimate guide, we show you everything you need to know about restaurant management.
Restaurant Management Explained
Can you remember the last time you had a stellar experience at a restaurant? What struck you the most—the food, the service, or both?
When you're a customer, you tend to nitpick every little thing about a restaurant because you want to get your money's worth. You start forming your impression of the restaurant upon arrival, from the facade, decor, furniture, and ambiance to the attire and demeanor of the staff and the time it takes for you to be seated and served.
As a customer, it probably doesn't occur to you that the restaurant management carefully planned and designed all of those things. But as a restaurant manager, you want to provide the best possible service as consistently and efficiently as possible.
In this ultimate guide, we show you everything you need to know about restaurant management. Read on to learn a bit about everything: from managing staff and finances to marketing campaigns, equipment needs, and more.
The basics of restaurant management
You might have the passion for food and hospitality that drives you to open your restaurant or manage one. The best way to learn how is by doing, and even then, you should have a solid plan in mind instead of taking a leap of faith.
Here are some essential tips for managing your restaurant with fewer headaches and more fulfilled customers:
Discover your target market and tailor your offerings
Let's say you want to open a restaurant or are managing one. You should have an idea about the kinds of customers you want dining at your place, whether they are families, old/young couples, or even solo diners.
For example, if you're leaning towards young professionals, consider a budget-friendly menu, offering light meals to full lunches and dinners, and an array of beverages, such as coffee or wine. For your restaurant design, think about having a mix of tables good for 2-6 persons to maximize seating options and covers.
You should take the time to study the demographic you intend to cater to, because you will be developing your menu, restaurant design and imagery, and pricing based on their preferences.
Identify and balance your restaurant expenses and costs
Restaurant expenses are regular payments that are not volatile. These include business permits and licenses, rent, and utilities. Whereas restaurant costs are purchases that fluctuate. These costs include payment for food supplies, packaging, and even labor costs.
A point-of-sale (POS) system helps you record and monitor your sales figures, including costs of goods sold (COGS), and allows you to identify wasteful practices to stop.
Some figures to keep in mind:
Ideal restaurant costs and expenses, source: Fit Small Business
We could go on and on about this, but the bottom line is that you need to think about where your money goes (expenses, costs, investment), how much of it can come back (sales, profit), and how you can increase your sales without cutting down the funding of other key areas.
Use technology and customer insights to guide restaurant planning and growth
When you finally open the doors and accept customers, keep track of all the sales and labor costs. As a small restaurant owner or manager, you need to keep your eyes peeled for fluctuations in these areas. The data from these areas will help you make informed decisions about orders the next week to ensure timely delivery of final products.
When you're managing a smaller restaurant, it can be challenging to keep up with all the little details. With staff in shorter supply and inventory piling up on shelves due to mismanagement or lack of time for upkeep, your margins are squeezed by over-buying and not having enough room for new merchandise.
One way to address these issues is by implementing a POS system. It will let you see exactly what's going wrong before things get out of control, and it'll also help automate some tasks so more energy can go into increasing sales and table turnover instead. Consider investing in this technology early on to reduce the headaches of running a restaurant in the long term.
Give your customers an unforgettable customer experience
The best customer service starts with the management of a restaurant. Doing things like keeping your space clean and safe, ensuring that your staff is well trained, making sure all operations systems are working correctly to meet guest expectations.
Ideally, restaurant managers walk through their venue every day to ensure that the customer has a pleasant experience. Managers must inspect all areas of the space—from the kitchen, dining area through the front door. It not only allows them to catch minor issues before they become major problems but also creates an opportunity to improve the customer experience and the staff's service.
All of these can make for an excellent experience for guests at any establishment and increase the chances of repeat visits.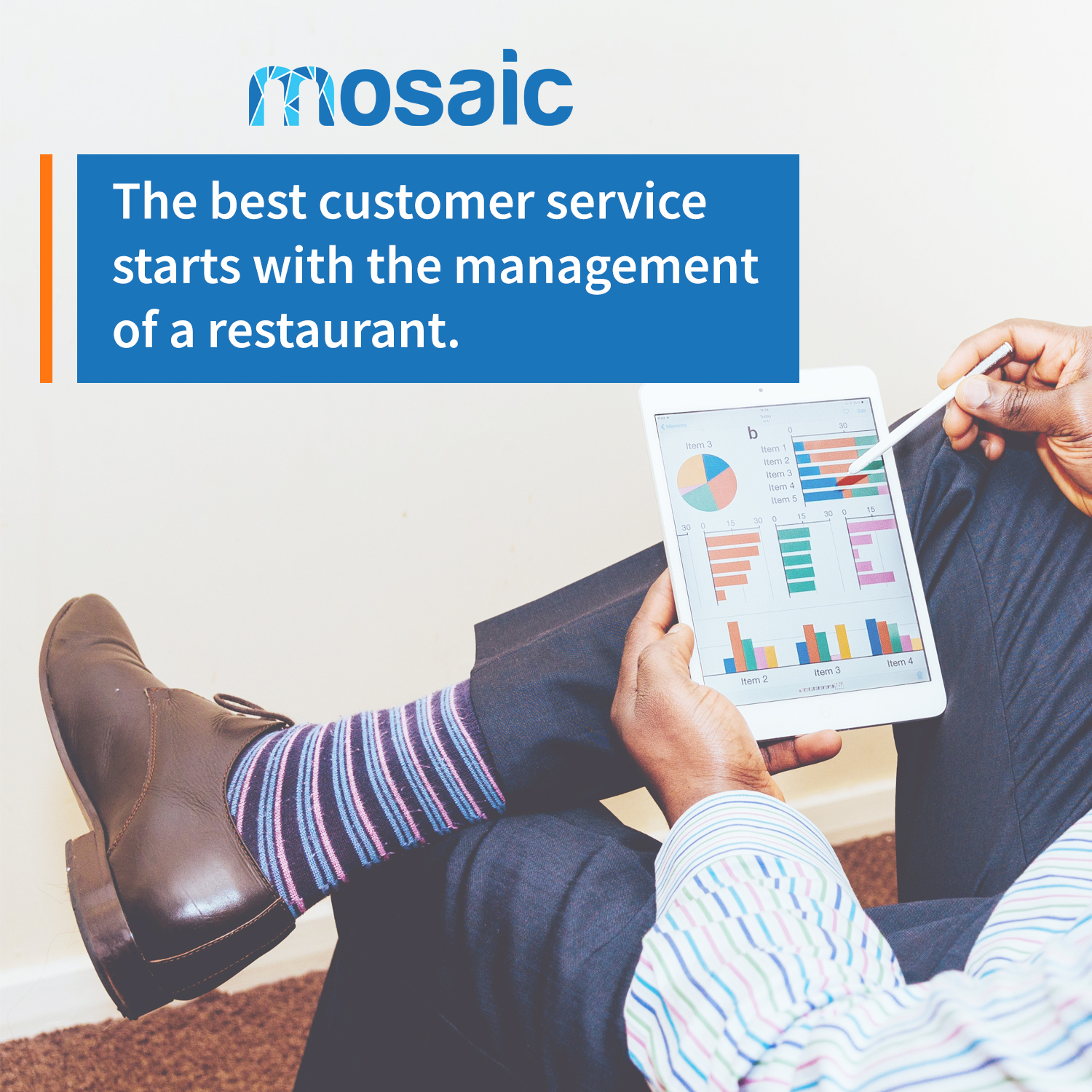 Set up your restaurant for success
The restaurant industry is an ever-changing landscape, and with that comes new trends, ideas, and concepts. Setting up your restaurant for success is a difficult task. There are many factors to consider, and they can often be overwhelming. But some things never change: the needs of your guests, the quality of your service and food, and your need to stay ahead of the curve to keep up with all these changes.
Here are some of the most important things that will make or break your establishment.
Make the most out of your inventory
Maximize your pantry staples by cooking with food that you can find year-round. You could do this and still come up with a delicious meal for any time of day or event in mind if you cook from what is available to buy throughout the whole year.
To make the most out of your inventory, you should:
Equip the kitchen with the right tools for cooking, including knives, pots and pans, cutting boards, utensils, etc.

Ensure that there's enough space in the kitchen, so you and your staff won't run into one another all day long

Have plenty of storage space so that food doesn't spoil or get lost in cabinets
You don't want to order too much, because the food will expire if it isn't used quickly enough. However, at the same time, you also do not want to understock, in case there are shortages or demand increases for certain items during events or holidays.

Optimize your menu
Optimizing your menu should go hand-in-hand with maximizing your inventory. Your menu should have a variety of dishes and prices so that it appeals to everyone. You can also shift the prices based on the location of your restaurant to appeal more to one demographic than another.
Pro tip: to optimize your menu, identify your best and worst sellers. Stock up on ingredients for your best-selling items, and maintain their quality throughout the year. For low-selling, less popular dishes, it's time to be creative. Challenge your cooks to create new dishes out of the same ingredients. But know when to let go and remove these items from your menu altogether.
Your goal should be to produce the best quality food at the best possible price. It doesn't have to be a new dish, but it should be a unique, satisfying experience.
Show them how it's done
Ensure that your service is always excellent, with promptness and politeness being keystones of every customer interaction. Remember that your team can only function as well as you train and treat them. Show them how it's done, and they'll know exactly how to deliver the service expected of them.
Happy employees will lead to satisfied customers who come back again and again, which will lead to greater success.
Online presence matters as much as physical presence
The location of your restaurant is crucial as it dictates both foot traffic and cost-of-rent, which are two factors that greatly affect profit margins, so be careful when choosing where you'll build. It's not just about how many people are in your area, but also about the culture and cuisine surrounding it.
You need to be aware of what other restaurants are around you, as well as what kind of food they serve. If there's a lot of competition nearby, you might have to offer something different or more affordable than some places do to get people through the door.
In the time of COVID-19, however, it's become more important to have an online presence. If people can't find what they're looking for on Google or Yelp, then they won't bother coming in to try it out. Start by creating social media pages for your restaurants. Be sure to include the necessary information: location, contact details, operating hours, menu, payment methods, and take away or delivery options.
Invest in multiple channels of marketing
It's important that customers know about any specials or events going on at your restaurant, so make sure those are easy to find too. Take advantage of mobile marketing—these days, everyone has a smartphone. If visitors can't easily access information from their phone, then they're more likely to go somewhere that has a decent mobile website.
Some restaurants get lucky because they were a set location for movie shoots. The directors probably picked these restaurants because of their ambiance and look, so these are a few areas you should consider if you want your place to be a hotspot for photoshoots, among others.
These are only a few ways you can set your restaurant up for success. As a restaurant manager, you know that half of your success rests on the quality of food and service you provide. The other half relies on your capabilities as a manager.
What it takes to be successful as a restaurant manager
The art of restaurant management is a delicate balance between profitability and operational costs. The key to success in this market is not only understanding these concepts but also finding ways to maintain an environment that welcomes guests with great service while maintaining control over your bottom line as well.
The essential element for managing any successful establishment starts by analyzing all the numbers so you can keep everything running smoothly, from food ordering expenses down to staff wages.
When you're managing a restaurant, here are some key things to remember to keep services flowing smoothly:
1. Be patient and communicat

e with your staff
No matter how hard you train your kitchen and dining staff, they will make mistakes. After all, you are all human. Instead of criticizing your team for subpar performance, first address the error, then talk to your employees in private. It's easy to yell at employees in the kitchen, but it disrupts work for everyone, and customers might accidentally hear what they shouldn't have to. It's also a terrible thing to do if you're looking to earn the respect of your subordinates.
Give your personnel the opportunity to redeem themselves throughout the rest of their shift. However, if they have a knack for performing below business standards, perhaps it's time to retrain or replace them.
2. Train all restaurant personnel regarding all policies
Once new management policies are confirmed, make sure there are processes in place and train employees. Such policies can include implementing dress codes, following best practices for interacting with customers and recommending new items on your menu to clients.
It's essential they know what their responsibilities entail before taking off into full force mode on opening day.
3. Be present, but avoid micromanaging
While keeping track of your sales, supplies, and staff are your job, these aren't the only things you should pay attention to. Be present and be a role model for your staff. Your presence shouldn't involve hovering over them and telling them what to do. Instead, show them that you are there to guide them, not to punish them.
4. Treating your staff well translates to better customer service
You are responsible for ensuring that all guests have an enjoyable experience. This extends to every employee in your restaurant and can be accomplished by treating everyone as individuals while trusting them and appreciating their work. Good managers create both rewarding experiences for employees AND memorable moments for customers!
Last call—invest in technology that cares for your investments
Now that you know how to jumpstart your career as a restaurant owner or manager, your next step is to collect operations data. This data, and the framework for collecting it, will be key in developing customer insights, menu engineering, and other important processes that can improve the way you do business.
With Mosaic, you can derive key customer insights to implement promos, optimize your menu offerings, and see what practices need to be improved or removed. Our platform includes data analytics, point-of-sale (POS), and inventory management, all of which are necessary to help you implement better business practices to boost revenue. Mosaic enables you to understand your business, your employees, and your customers better than solely relying on receipts and spoken feedback.
If you're ready to take your restaurant management to the next level, contact us and let's find the best solutions for your business needs.
Share this article