Cala Laiya is a relaxing escape for families located in San Juan, Batangas. It is a place where guests can enjoy a peaceful, private, and kid-friendly environment. This resort prioritizes its guest's experience, constantly working to improve its facilities and services to provide them with a memorable visit.
A Different Kind of Accommodation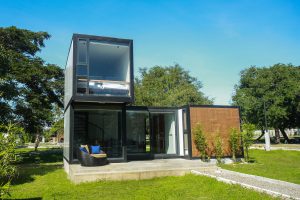 2 Bedroom Casita at Cala Laiya
What sets Cala Laiya apart from other resorts is its unique accommodation – rooms are housed in modern, industrial-themed Casitas. These small, individual houses offer guests the privacy and peace they need to truly unwind and recharge. Even when the resort is fully booked, guests won't feel crowded, as the Casitas are spaced apart, providing a sense of seclusion.
They offer multiple room sizes as well for different types of guests. From a cozy 2-person casita to a 3-Bedroom Casita for 6 pax that looks like a small house in a posh village. For those that need to take a break from the city during the weekdays or maybe a change of scenery when working remotely, the resort offers overnight promotions for as low as P6,500++ per night.
Kid-Friendly Activities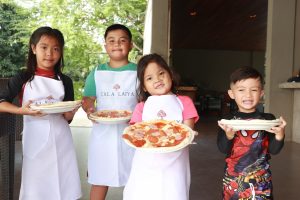 Pizza making activity at Cala Laiya
Cala Laiya is a kid-friendly resort that offers a variety of activities to keep children entertained. In fact, they were fully booked on most days when travel restrictions eased last year with families staying multiple days to play and to work and study remotely in a home-away-from-away. The resort regularly hosts activities for the little ones like movie nights, pizza-making classes, and cupcake designing. They also have a world-class playground that is perfect for older children. This year, they are also launching a "Kids at Heart" campaign, offering discounted rates for families. The resort is committed to creating a fun, safe, and enjoyable environment for children.
Streamlining Operations with Technology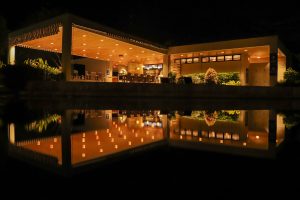 The Dining Pavilion for Resort Guests
To better serve its guests, Cala Laiya is expanding its facilities and services in 2023. The resort is using technology like Point of Sale (POS) systems in its restaurants to streamline operations, keep better track of guest orders, and reduce the time it takes to serve food. Having a reliable restaurant POS is especially important since the resort is planning to add 2 new dining concepts for their guests. That is why choosing the right partner to provide these tech solutions is an important part of their decision-making.
For Cala Laiya, they chose Mosaic Solutions, a leading provider of restaurant management systems that help establishments streamline operations. "We chose Mosaic Solutions because they offered us a personalized onboarding experience with free staff training and responsive after-sales support. Whenever an issue pops up, even during weekend evenings, someone from their support team responds immediately and helps us resolve our concern. This is very important because any disruption to our order taking process negatively affects the experience we provide to our guests." Says Brian Raymond, Area Manager for Cala Laiya.
This investment in technology and the diligent selection of solutions providers reflects the resort's commitment to constantly improving the experience they give to their guests.
————————-
Cala Laiya is a family-friendly getaway that prioritizes the customer experience. With its unique Casita accommodations, kid-friendly activities, and use of technology, the resort is constantly working to create a memorable and enjoyable experience for its guests. Book your stay at Cala Laiya today and discover a new level of relaxation and peace for the family.
For more information on Cala Laiya and to avail of their Kids at Heart promotion, please visit https://calalaiya.com/ or call them at 0917-883-9900 or 0919-070-9900. You may also reach them at reservations@calalaiya.ph.
Share this article