Before the dawn of technology, people didn't have as much ease of checking up on each other like we do today. Although that's no longer the case, the tradition lives on. And for many Singaporeans, the Chinese New Year reunion dinner is a favorite tradition.
5 Restaurants to Have Dinner and Celebrate Chinese New Year in Singapore
The story goes that reunion dinners originated in China and became an annual tradition for family and friends to check on each other. For family and friends that lived far apart, showing up to reunion dinner meant showing your loved ones that you're alive and well. Apart from that, it was also an opportunity for everyone to catch up before they get swept up in their busy lives for the coming year.
Even though we can check on our loved ones from afar, there's nothing like getting together and sharing a meal with them. And since it only happens once a year—it's worth splurging. Read on for our top suggestions for you and your loved ones to go for the finest food and drinks.
#1 – Madam Fan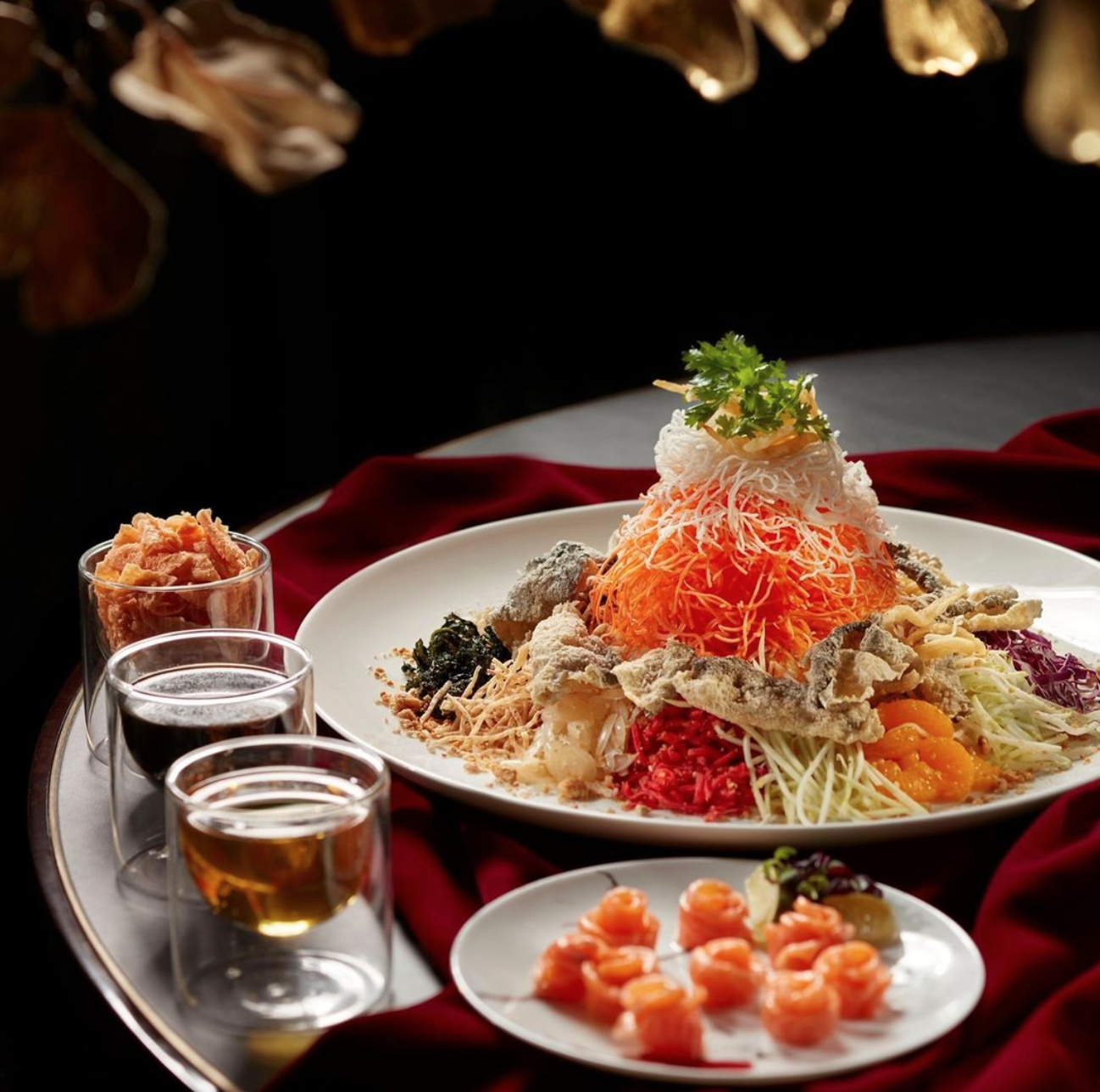 Image by Madam Fan
Start the new year on a vibrant note with Madame Fan's Lo Hei. A favorite custom and Chinese New Year specialty, Madame Fan's Lo Hei brings a modern twist to classic Cantonese fare. You'll leave feeling full and looking forward to the coming year.
Lo Hei may be the star of Chinese New Year, but Madame Fan's offers a variety of drinks, desserts, and entrees to make your New Year's banquet fit for a king. From hand-cut Taiwan noodles to a live Canadian lobster—they've got plenty of iconic dishes to try. Their buffet is truly a culinary experience you won't want to miss.
Book a reservation or call +65 6818 1921.
#2 – Fat Cow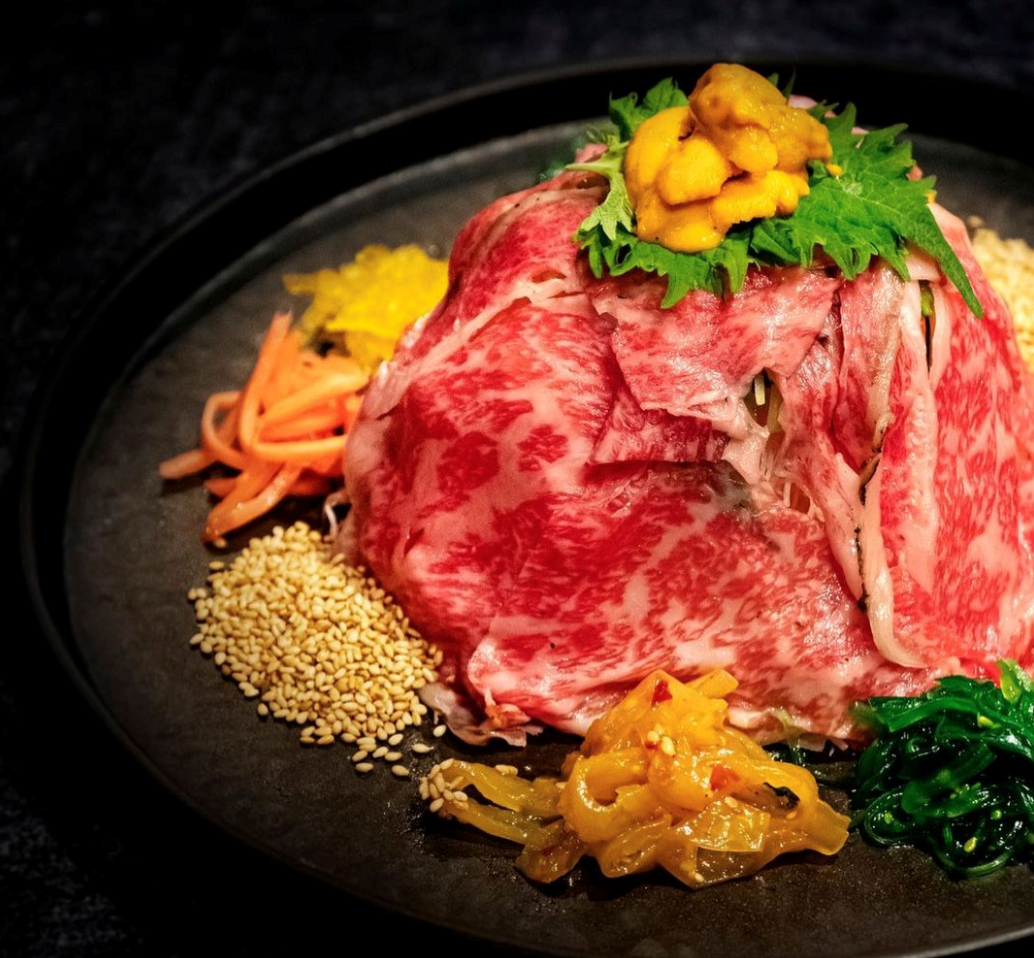 Image by Fat Cow
Fat Cow takes the classic Chinese New Year dish, Lo Hei (aka Yu Sheng), and gives it a Japanese twist. The Lo Hei is made with an assortment of colorful vegetables, fresh salmon, and secret seasonings. However, at Fat Cow, they replaced your typical salmon with melt-in-your-mouth Japanese Wagyu Beef, aptly naming it Gyu Sheng. For the final garnish, the Gyu Sheng is topped with fresh uni. You can't go wrong with a Lo Hei turned surf and turf.
As the name would suggest, Fat Cow is all about beef, so be sure to explore their many beef dishes when you visit. They serve everything like flavorful rice bowls, scrumptious sandwiches, and juicy steaks. Although their highlight is beef, they also serve some delicious seafood dishes. And if you're craving a drink with your meal, Fat Cow serves fine Japanese sakes and whiskeys.
If you're looking for a Chinese New Year with a Japanese twist, Fat Cow's the place for you.
Book a reservation or call +65 6735 0308.
#3 – Ellenborough Market Café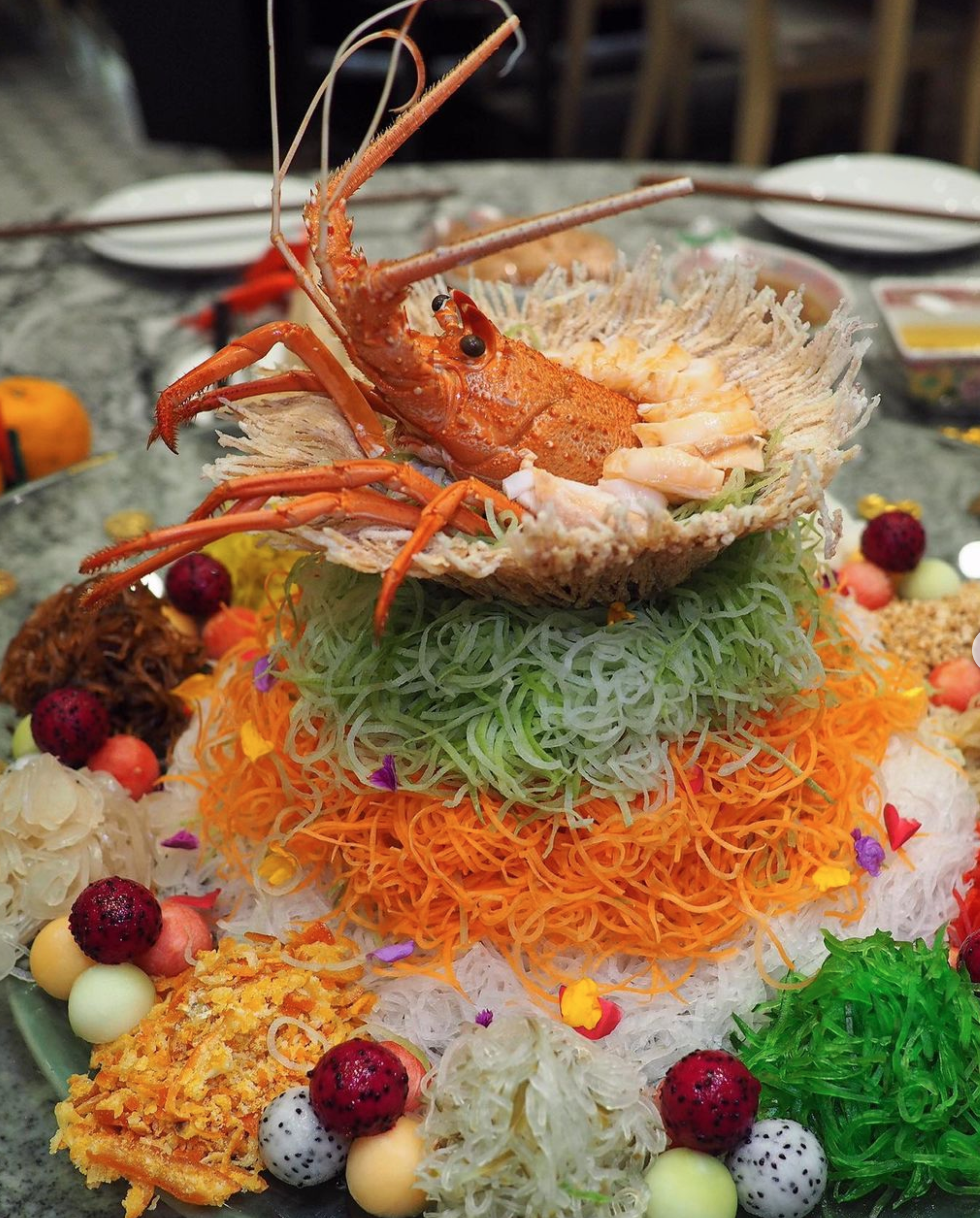 Image by Swissotel Merchant Court
Another Chinese New Year tradition is to eat round food as it symbolizes prosperity. Ellen Borough's Market Cafè incorporates these ties in two customs, serving their Lo Hei with balled fruit. Savor the flavors of the ocean, the sweetness of the fruit, and the crunch of vegetables as you welcome the new year. Let's hope like Ellen Borough's Market Cafè, the coming year is filled with more tasty experiences.
Apart from making delicious Chinese New Year Lo Hei, Ellen Borough market cafè serves dishes from different parts of the world. Whether you try their Lobster Bisque or Red Thai Curry with Pork—it's sure to impress you. So, if you have a more international craving, then you can have an intercontinental feast this Chinese New Year.
Book a reservation or call +65 6239 1847/1848.
#4 – Grand Shanghai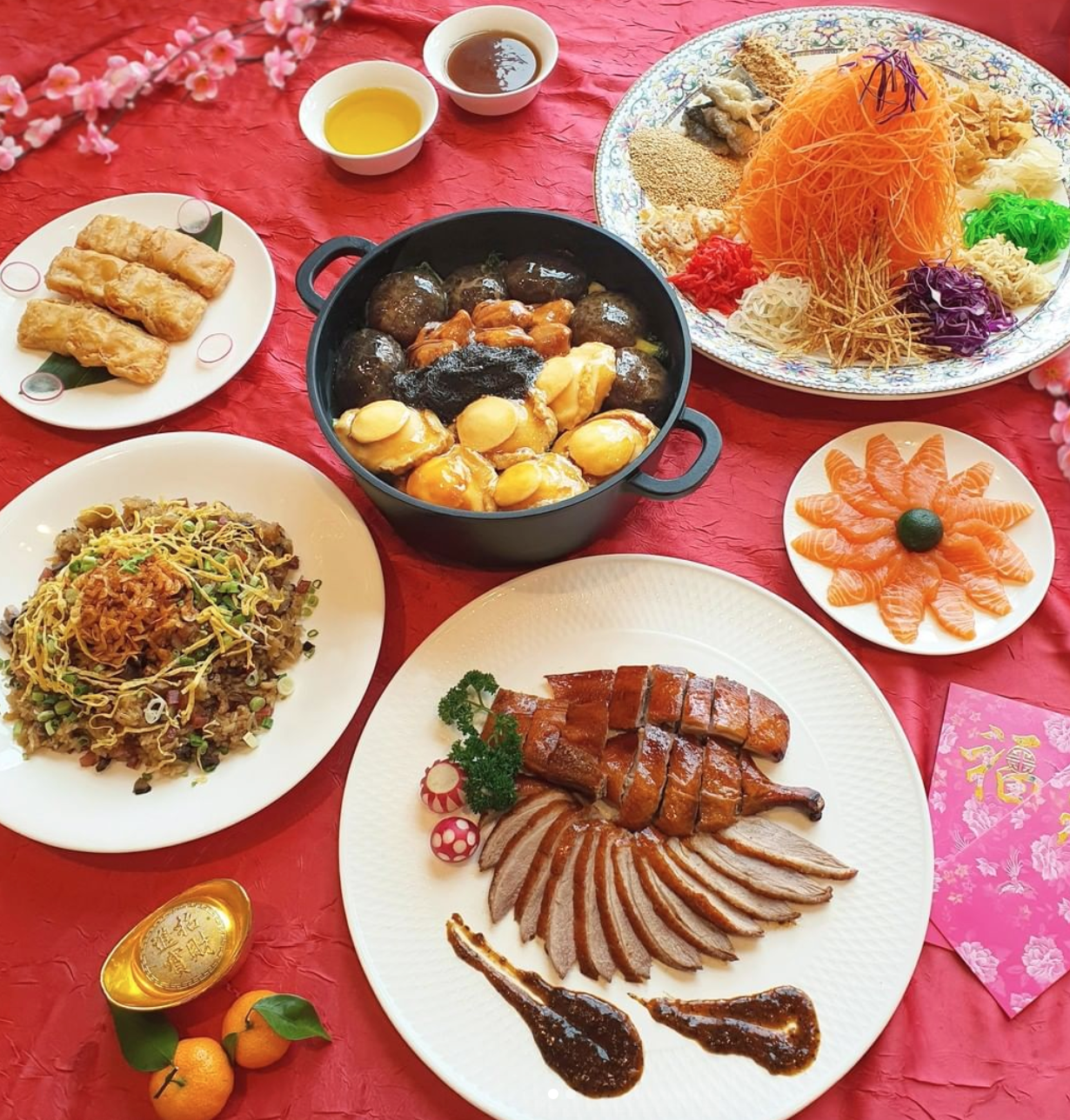 Image by Blue Jasmine
If you're seeking a classic Chinese New Year's feast, Grand Shanghai's treasure set will leave you and your loved ones feeling like royalty. Their treasure set includes stir-fried glutinous rice, Lo Hei, deep-fried Nian Gao, and perfectly braised abalone oysters.
And don't forget to try their Sweet and Sour Soup—it's by far one of the best ones you can find. And of course, their Xiao Long Bao are perfectly prepared and filled with that classic mouthwatering broth. For anyone who craves authentic Shanghai cuisine and a five star experience in Singapore, this is the place to go.
Book a reservation or call +65 6836 6866.

#5 – Crystal Jade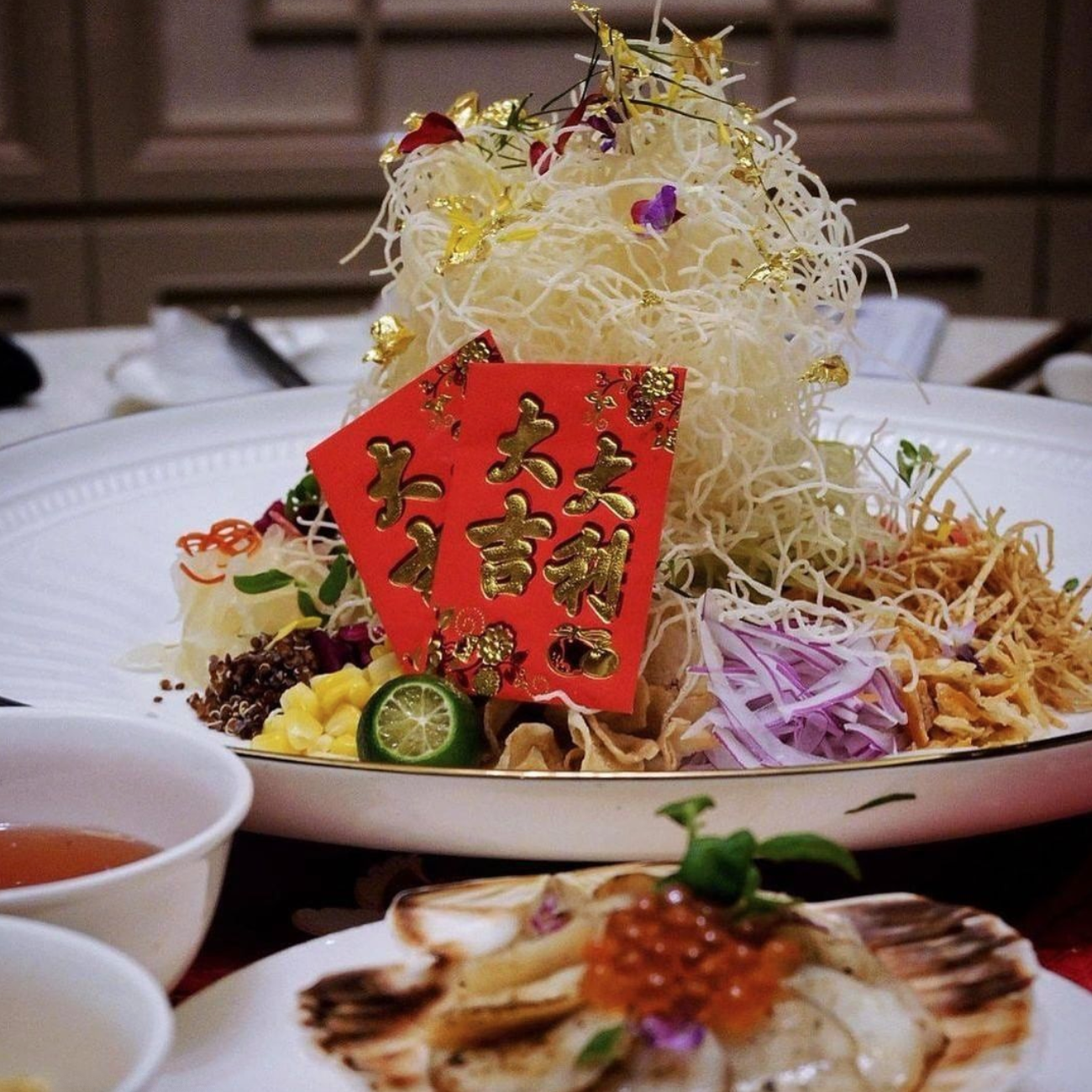 Image by Crystal Jade
Not only is Crystal Jade Michelin star rated, it's also part of an multi-Michelin Bib Gourmand Aan award-winning Chinese culinary group—so you can bet that each bite of their food is simply perfection. A new year filled with some of the best food in Singapore to enjoy with those dearest to you? That's an evening you won't forget.
Their traditional Lo Hei is stunning with a huge and ostentatious garnishing. Crystal Jade's rendition of the dish also has gold shavings and Hong Bao. If you want to start the new year on a very prosperous note, Jade Garden's Lo Hei will surely let that feeling be known.
Book a reservation or call +65 6735 2388.
A Day of Feasts, Family, and Friends

The most special day of the lunar year is a time abundant in the company of those dear to us, beloved customs and traditions, and most of all—delicious food. With these suggestions, we hope you start the new year on a high note. May the year that comes bring you happiness and good fortune.
What are your favorite restaurants in Singapore? Let us know on our Facebook and Instagram page and may it'll make our next list!
Happy New Year!
And if you're a restaurant owner yourself, then why not start the year off with the right technology? At Mosaic, we offer restaurant software solutions that help you manage your inventory, upgrade your point of sale system, and take care of other daily operations.
Contact us to see how we can help you today!
Share this article